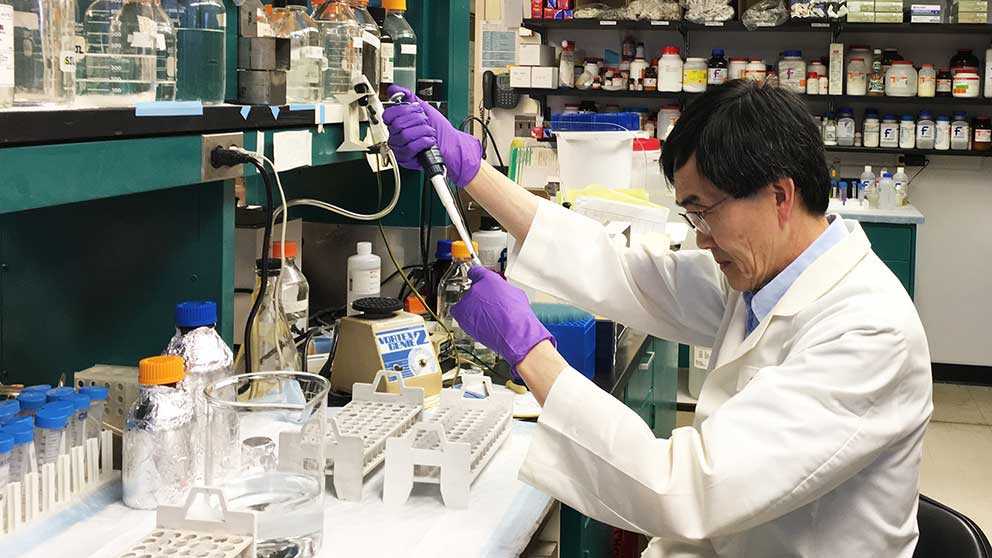 Jessica McBride, Office of the Vice President for Research
Acclaimed UConn Health/JAX geneticist, Dr. Se-Jin Lee, was recently awarded over $1.9 million from the National Institutes of Health (NIH) for a four-year research project, "TGF-beta family members and their binding proteins in aging skeletal muscle" (1R01AG052962-01A1). Dr. Emily Germain-Lee from UConn Health/Connecticut Children's Medical Center will serve as Co-PI on the project.
In recent years, there has been considerable interest in the possible role that members of the transforming growth factor-beta family may play in regulating tissue aging and the possibility that manipulating their levels of signaling may be a new therapeutic strategy to combat tissue dysfunction in the elderly. Much of this interest has focused on two highly related signaling molecules, myostatin (MSTN, GDF-8) and GDF-11, both of which were originally identified by Dr. Lee's laboratory many years ago.
Some studies indicate that GDF-11 levels decrease as a function of age, and that systemic administration of the purified protein can reverse age-related tissue dysfunction in the heart, skeletal muscle, and nervous systems. Other studies report the opposite, and suggest that GDF-11 levels do not decrease with age and that administration of the protein has detrimental effects on muscle regeneration. With this project, Dr. Lee and his team respond to these contradictory findings about the signaling molecules, and aim to elucidate their roles in the regulation of adult tissue homeostasis.
The overarching goal of the NIH funded study is to determine once and for all how these TGF-beta family members and their binding proteins affect tissue aging. With a firm understanding, the team hopes to better inform the development of effective therapeutic strategies for manipulating the activities of these molecules for clinical applications in the elderly.
Dr. Lee's breakthrough research has been critical to increasing knowledge about muscle degenerative and wasting conditions such as muscular dystrophy (a genetic disease causing muscle weakening or loss), sarcopenia (muscle loss due to the aging process) and cachexia (unexplained weight loss or wasting syndrome) resulting from diseases like cancer and sepsis.
Dr. Lee joined UConn Health and JAX in August of 2017 from The Johns Hopkins University School of Medicine. He is the third joint faculty member appointed by UConn Health and The Jackson Laboratory for Genomic Medicine, both located in Farmington, Conn.